We will be sharing featured books as well as book reviews on this page. The majority of books will be ones in our collection, however if it is not we can get a copy for you so just ask! If our library owns a copy, you are able to click on the title or cover image and will be taken to the catalog page for that title. If you are interested in submitting a book review of your own (and we would love patron reviews!) please fill out the form at this link: https://goo.gl/forms/9rxjYODst665cfqs2.
---
The Printed Letter Bookshop by Katherine Reay

Summary: One of Madeline Cullen's happiest childhood memories is of working with her Aunt Maddie in the quaint and cozy Printed Letter Bookshop. But by the time Madeline inherits the shop nearly twenty years later, family troubles and her own bitter losses have hardened Madeline's heart toward her once-treasured aunt—and the now struggling bookshop left in her care.
While Madeline intends to sell the shop as quickly as possible, the Printed Letter's two employees have other ideas. Reeling from a recent divorce, Janet finds sanctuary within the books and within the decadent window displays she creates. Claire, though quieter than the acerbic Janet, feels equally drawn to the daily rhythms of the shop and its loyal clientele, finding a renewed purpose within its walls.
When Madeline's professional life falls apart, and a handsome gardener upends all her preconceived notions, she questions her plans and her heart. Has she been too quick to dismiss her aunt's beloved shop? And even if she has, the women's best combined efforts may be too little, too late.
Favorable Points: This story was filled with book references and made me wish more than once that I could spend all my days in a bookshop just as welcoming as The Printed Letter. The struggles the main character dealt with could be how many of us feel in our daily lives.
Unfavorable Points:  No unfavorable points for me.
Final Notes: Perfect story of love, friendship, and finding a home you can love.

---
The Night Olivia Fell by Christina McDonald

Summary: In the small hours of the morning, Abi Knight is startled awake by the phone call no mother ever wants to get: her teenage daughter Olivia has fallen off a bridge. Not only is Olivia brain dead, she's pregnant and must remain on life support to keep her baby alive. And then Abi sees the angry bruises circling Olivia's wrists.
When the police unexpectedly rule Olivia's fall an accident, Abi decides to find out what really happened that night. Heartbroken and grieving, she unravels the threads of her daughter's life. Was Olivia's fall an accident? Or something far more sinister?
Christina McDonald weaves a suspenseful and heartwrenching tale of hidden relationships, devastating lies, and the power of a mother's love. With flashbacks of Olivia's own resolve to uncover family secrets, this taut and emotional novel asks: how well do you know your children? And how well do they know you?
Favorable Points: This book had a lot more than I was expecting in it! I liked the story being told from alternating viewpoints of Olivia and her mother. I was thinking it would be a standard suspense drama of trying to learn how she fell from the bridge. But there was lots of emotions in this book!
Unfavorable Points:  This book could be a somewhat triggering for those that have a hard time reading about the loss of a child. 
Final Notes: A great, easy drama/mystery story with plenty of emotional connections and feelings.

---
The Silent Patient by Alex Michaelides

Summary: Alicia Berenson's life is seemingly perfect. A famous painter married to an in-demand fashion photographer, she lives in a grand house with big windows overlooking a park in one of London's most desirable areas. One evening her husband Gabriel returns home late from a fashion shoot, and Alicia shoots him five times in the face, and then never speaks another word.
Alicia's refusal to talk, or give any kind of explanation, turns a domestic tragedy into something far grander, a mystery that captures the public imagination and casts Alicia into notoriety. The price of her art skyrockets, and she, the silent patient, is hidden away from the tabloids and spotlight at the Grove, a secure forensic unit in North London.
Theo Faber is a criminal psychotherapist who has waited a long time for the opportunity to work with Alicia. His determination to get her to talk and unravel the mystery of why she shot her husband takes him down a twisting path into his own motivations―a search for the truth that threatens to consume him….
Favorable Points: This novel moved along at a good pace for me, not too fast like some where I almost can't keep up. It's a story full of hidden secrets, the kind that we can tell are just under the surface but we can't fully figure out. The characters that only reveal small parts of themselves, making you think you've figured them out a little more. Plus, the ending is quite a twist!
Unfavorable Points:  Nothing really unfavorable in this book for me!
Final Notes: Definitely a must read if you enjoy thrillers with interesting characters and endings that will leave you surprised.
---
Summary: On her way to Utah to see her dying mother, college student Darby Thorne gets caught in a fierce blizzard in the mountains of Colorado. With the roads impassable, she's forced to wait out the storm at a remote highway rest stop. Inside are some vending machines, a coffee maker, and four complete strangers.
Desperate to find a signal to call home, Darby goes back out into the storm . . . and makes a horrifying discovery. In the back of the van parked next to her car, a little girl is locked in an animal crate. Who is the child? Why has she been taken? And how can Darby save her?
There is no cell phone reception, no telephone, and no way out. One of her fellow travelers is a kidnapper. But which one? Trapped in an increasingly dangerous situation, with a child's life and her own on the line, Darby must find a way to break the girl out of the van and escape. But who can she trust?
Favorable Points: Lots of suspense, plot twists, characters that are not who you think they are, and even some very touching moments. This is my favorite kind of thriller!!
Unfavorable Points:  There was a some blood and violence in this novel, but if you are used to thrillers and suspense novels then I didn't find it too unbearable.  Not as much as a horror novel would have!
Final Notes: Make sure you can stay up late reading or don't have to be anywhere for a while when you start this book, you may not want to put it down once you starts!
---
Whiskey and Ribbons by Leesa Cross-Smith

Summary: Evi—a classically-trained ballerina—was nine months pregnant when her husband Eamon was killed in the line of duty on a steamy morning in July. Now, it is winter, and Eamon's adopted brother Dalton has moved in to help her raise six-month-old Noah.
Whiskey & Ribbons is told in three intertwining, melodic voices: Evi in present day, as she's snowed in with Dalton during a freak blizzard; Eamon before his murder, as he prepares for impending fatherhood and grapples with the danger of his profession; and Dalton, as he struggles to make sense of his life next to Eamon's, and as he decides to track down the biological father he's never known.
In the vein of Jojo Moyes' After You, Whiskey & Ribbons explores the life that continues beyond loss, with a complicated brotherly dynamic reminiscent of Elizabeth Strout's The Burgess Boys. It's a meditation on grief, hope, motherhood, brotherhood and surrogate fatherhood. Above all, it's a novel about what it means—and whether it's possible—to heal.
Favorable Points: Cross-Smith has an ability to put words on a page that you feel in your heart. The story is written from the point of view of three main characters, Evi, Eamon and Dalton. The viewpoints feel like they are uniquely woven together (somewhat like ribbons…) until you see the whole picture at the end of the novel. All of the characters were very real, and I felt like I truly knew each one.
Unfavorable Points:  I do not have a single thing that I didn't like about this book, and I wish that there could have been more!
Final Notes: This is one of those books that stays with you for a long while, and then just when you think you've thought about it enough you are thinking about it again. Be prepared to feel the grief of the characters, the love that they feel for each other, and the heartache they go through as they heal.  
---
On the Come Up by Angie Thomas

Summary: Sixteen-year-old Bri wants to be one of the greatest rappers of all time. Or at least make it out of her neighborhood one day. As the daughter of an underground rap legend who died before he hit big, Bri's got big shoes to fill. But now that her mom has unexpectedly lost her job, food banks and shutoff notices are as much a part of Bri's life as beats and rhymes. With bills piling up and homelessness staring her family down, Bri no longer just wants to make it—she has to make it.
On the Come Up is Angie Thomas's homage to hip-hop, the art that sparked her passion for storytelling and continues to inspire her to this day. It is the story of fighting for your dreams, even as the odds are stacked against you; of the struggle to become who you are and not who everyone expects you to be; and of the desperate realities of poor and working-class black families.
Favorable Points: After flying through On the Come Up (which is almost 500 pages!) in less than 2 days, I can honestly say that I enjoyed this one as much as Angie Thomas' first novel. It's a book that taught me things, opened my eyes to other experiences, and is important for our world today.
Unfavorable Points: Yes, parts of it can be controversial and parts of it might make you uncomfortable. But isn't that one of the points of reading a book, to step outside of what we know and are used to and experience new things?
Final Notes: While figuring out who she is, where she wants to go with her dreams and how she is going to get there, Bri also figures out a way to really have a voice for herself and those around her. Definitely a book that needs read!
---
Five Feet Apart by Rachael Lippincott

Summary: Stella Grant likes to be in control—even though her totally out of control lungs have sent her in and out of the hospital most of her life. At this point, what Stella needs to control most is keeping herself away from anyone or anything that might pass along an infection and jeopardize the possibility of a lung transplant. Six feet apart. No exceptions.
The only thing Will Newman wants to be in control of is getting out of this hospital. He couldn't care less about his treatments, or a fancy new clinical drug trial. Soon, he'll turn eighteen and then he'll be able to unplug all these machines and actually go see the world, not just its hospitals.
Will's exactly what Stella needs to stay away from. If he so much as breathes on Stella she could lose her spot on the transplant list. Either one of them could die. The only way to stay alive is to stay apart. But suddenly six feet doesn't feel like safety. It feels like punishment.
What if they could steal back just a little bit of the space their broken lungs have stolen from them? Would five feet apart really be so dangerous if it stops their hearts from breaking too?
Favorable Points: I enjoyed all the characters in this novel, I felt like there was a good amount of backstory for the main characters and it was given at just the right times. I enjoyed the relationship between Stella and Poe, as well as Stella and Will. I definitely could see this playing out as a movie in my head as I was reading it.
Unfavorable Points: There was only one scene that I was a little disappointed in how some of the characters handled it, but I can't say any more than that!
Final Notes: This was a heartwarming, teen romance read with details of chronic illness, love and living life at the forefront.

---
The Dreamers by Karen Thompson Walker

Summary: In an isolated college town in the hills of Southern California, a freshman girl stumbles into her dorm room, falls asleep—and doesn't wake up. She sleeps through the morning, into the evening. Her roommate, Mei, cannot rouse her. Neither can the paramedics who carry her away, nor the perplexed doctors at the hospital. Then a second girl falls asleep, and then another, and panic takes hold of the college and spreads to the town. As the number of cases multiplies, classes are canceled, and stores begin to run out of supplies. A quarantine is established. The National Guard is summoned.
Mei, an outsider in the cliquish hierarchy of dorm life, finds herself thrust together with an eccentric, idealistic classmate. Two visiting professors try to protect their newborn baby as the once-quiet streets descend into chaos. A father succumbs to the illness, leaving his daughters to fend for themselves. And at the hospital, a new life grows within a college girl, unbeknownst to her—even as she sleeps. A psychiatrist, summoned from Los Angeles, attempts to make sense of the illness as it spreads through the town. Those infected are displaying unusual levels of brain activity, more than has ever been recorded. They are dreaming heightened dreams—but of what?
Favorable Points: This novel has quite the cast of characters to keep track of, but honestly I never had trouble with it. Each of them had their own experiences and plot, that I truly was interested in for each of them. There begins a time when some of the characters begin to cross paths and that is where it became hard to put this book down. I needed to know what was going to happen to each person!
Unfavorable Points: Parts of this story were vague, parts were detailed, but all of it was enjoyable. It drew me in from the beginning and I never once felt as if it stalled. The ending had its questions, but doesn't every book of this type?
Final Notes: Dystopian novels are one of my favorites to read, maybe it's something about being able to fully escape into a story that has in no way happened before in real life. Once I heard about this one, and the book it had been compared to, I knew I would read it ASAP.
---
Before We Were Strangers by Brenda Novak

Summary: Something happened to her mother that night. Something no one wants to talk about. But she's determined to uncover her family's dark secrets, even if they bury her.
Five-year-old Sloane McBride couldn't sleep that night. Her parents were arguing again, their harsh words heating the cool autumn air. And then there was that other sound–the ominous thump before all went quiet.
In the morning, her mother was gone.
The official story was that she left. Her loving, devoted mother! That hadn't sat any better at the time than it did when Sloane moved out at eighteen, anxious to leave her small Texas hometown in search of anywhere else. But not even a fresh start working as a model in New York could keep the nightmares at bay. Or her fears that the domineering father she grew up with wasn't just difficult–he was deadly.
Now another traumatic loss forces Sloane to realize she owes it to her mother to find out the truth, even if it means returning to a small town full of secrets and lies, a jilted ex-boyfriend and a father and brother who'd rather see her silenced. But as Sloane starts digging into the past, the question isn't whether she can uncover what really happened that night…it's what will remain of her family if she does?
Favorable Points: I read this book in just about a day! Minus about 3 chapters that I finished the next morning because I just couldn't stay awake any longer. This family drama of a novel is one that really draws you in! There is lots of drama, family connections, lies, broken friendships and mystery surrounding this story and it makes for one I couldn't put down!
Unfavorable Points: Other than a few choices on the part of the main character I really enjoyed this book!

Final Notes: We have a few books by Brenda Novak on our shelves, I'm looking forward to reading more. Give one a try!

---
Watch Me Disappear by Janelle Brown

Summary: It's been a year since Billie Flanagan–a Berkeley mom with an enviable life–went on a solo hike in Desolation Wilderness and vanished from the trail. Her body was never found, just a shattered cellphone and a solitary hiking boot. Her husband and teenage daughter have been coping with Billie's death the best they can: Jonathan drinks as he works on a loving memoir about his marriage; Olive grows remote, from both her father and her friends at the all-girls school she attends.
But then Olive starts having strange visions of her mother, still alive. Jonathan worries about Olive's emotional stability, until he starts unearthing secrets from Billie's past that bring into question everything he thought he understood about his wife. Who was the woman he knew as Billie Flanagan?
Together, Olive and Jonathan embark on a quest for the truth–about Billie, but also about themselves, learning, in the process, about all the ways that love can distort what we choose to see. Janelle Brown's insights into the dynamics of intimate relationships will make you question the stories you tell yourself about the people you love, while her nervy storytelling will keep you guessing until the very last page.
Favorable Points: This is a family drama/mystery story as Jonathan and his daughter Olive deal with the disappearance of wife and mother, Billie. Each character had its own flaws, but I enjoyed parts of each character as well (though I liked Jonathan the least). I read this book fast though, it grabbed my attention from the beginning and its one of those that you think you might be figuring it out and boom something changes it all.
Unfavorable Points: I went into this not really knowing what to expect, but after finishing and thinking I expected it to be a little bit more of a thriller/suspense style book. Nothing of the actual story was unfavorable though, very good read!

Final Notes: Overall I would recommend this to anyone looking for an intriguing mystery with some quirky characters and a very hidden ending!
---
The Library Book by Susan Orlean

Summary: (This is a work of non-fiction about real events.) On the morning of April 28, 1986, a fire alarm sounded in the Los Angeles Public Library. As the moments passed, the patrons and staff who had been cleared out of the building realized this was not the usual fire alarm. As one fireman recounted, "Once that first stack got going, it was 'Goodbye, Charlie.'" The fire was disastrous: it reached 2000 degrees and burned for more than seven hours. By the time it was extinguished, it had consumed four hundred thousand books and damaged seven hundred thousand more. Investigators descended on the scene, but more than thirty years later, the mystery remains: Did someone purposefully set fire to the library—and if so, who?
In The Library Book, Orlean chronicles the LAPL fire and its aftermath to showcase the larger, crucial role that libraries play in our lives; delves into the evolution of libraries across the country and around the world, from their humble beginnings as a metropolitan charitable initiative to their current status as a cornerstone of national identity; brings each department of the library to vivid life through on-the-ground reporting; studies arson and attempts to burn a copy of a book herself; reflects on her own experiences in libraries; and reexamines the case of Harry Peak, the blond-haired actor long suspected of setting fire to the LAPL more than thirty years ago.
Favorable Points: Told in a style that reads like fiction at times, Susan Orlean tells the story of the Los Angeles Public Library and the fire that burned inside for over 7 hours one day in 1986. This isn't just the story of the fire though, it's the story of how libraries began in the United States more specifically of course, the beginning of the LA library. It's about what original libraries and librarians were like, how they were used, what they evolved into and how they were run. There were some fascinating stories about the head librarians from the time the LA library opened.
Unfavorable Points: Being that this is non-fiction, there were a few times that the writing became a little technical and not as 'story-like' for me. I didn't read this book all at once, I put it down to read a little of another during it. This didn't change how much I loved this book though.

Final Notes: Such interesting details and information from the LA library fire, as well as anecdotes and details of other library fires around the world. It's heartbreaking to think about the amount of information and rare materials lost in all these library fires. If you are at all a library supporter or patron, read this book. The statistics alone will fascinate you about the LA public library since it began in approx 1880. This gave me such warm feelings about libraries and their impact, and that's saying a lot since I work at one!
---
A Man Called Ove by Fredrik Backman

Summary: A grumpy yet loveable man finds his solitary world turned on its head when a boisterous young family moves in next door.
Meet Ove. He's a curmudgeon, the kind of man who points at people he dislikes as if they were burglars caught outside his bedroom window. He has staunch principles, strict routines, and a short fuse. People call him the bitter neighbor from hell, but must Ove be bitter just because he doesn't walk around with a smile plastered to his face all the time?
Behind the cranky exterior there is a story and a sadness. So when one November morning a chatty young couple with two chatty young daughters move in next door and accidentally flatten Ove's mailbox, it is the lead-in to a comical and heartwarming tale of unkempt cats, unexpected friendship, and the ancient art of backing up a U-Haul. All of which will change one cranky old man and a local residents' association to their very foundations.
Favorable Points: I listened to this book in audio format, so hearing the accents/inflections/mood of the characters voices through audio is what drew me in. By the end I really felt for Ove, and I loved Parvana and her insistence on not letting Ove become a recluse.
Unfavorable Points: I didn't really see the "point" of the story for the first while, but found it in the end. It's a story that I really think everyone should give a chance.
Final Notes: It was a wonderful story of love, family and what we really live for. Really makes you appreciate and think about those people that are in your life still, or that you might be missing.

---
Summary: When the California drought escalates to catastrophic proportions, one teen is forced to make life and death decisions for her family in this harrowing story of survival. The drought—or the Tap-Out, as everyone calls it—has been going on for a while now. Everyone's lives have become an endless list of don'ts: don't water the lawn, don't fill up your pool, don't take long showers.
Until the taps run dry.
Suddenly, Alyssa's quiet suburban street spirals into a warzone of desperation; neighbors and families turned against each other on the hunt for water. And when her parents don't return and her life—and the life of her brother—is threatened, Alyssa has to make impossible choices if she's going to survive.
Favorable Points: I was intrigued and interested in the story from the very beginning, but the last 1/3 of it really flew by as I felt their increasing need for water. A lot of look into how society could react if something of this magnitude were to actually happen. Makes you think!
Unfavorable Points: Not as in-depth of a story or deep characters, as this is written more for the YA audience. If you need a quick read though, this fits!

Final Notes: I would definitely recommend this to anyone looking for a quick read on what I've learned could be a real life issue for California in the not too distant future.
---
Where the Crawdads Sing by Delia Owens
Summary: For years, rumors of the "Marsh Girl" have haunted Barkley Cove, a quiet town on the North Carolina coast. So in late 1969, when handsome Chase Andrews is found dead, the locals immediately suspect Kya Clark, the so-called Marsh Girl. But Kya is not what they say. Sensitive and intelligent, she has survived for years alone in the marsh that she calls home, finding friends in the gulls and lessons in the sand. Then the time comes when she yearns to be touched and loved. When two young men from town become intrigued by her wild beauty, Kya opens herself to a new life–until the unthinkable happens.
Favorable Points: I loved the slow build of this book, how it really took time to get to know the marsh lands and the characters. Every time I had to put it down, I was waiting impatiently to pick it back up! I felt the pace of the book was much the way Kya lives her life. Learning things and experiencing life in her own time, never in a rush to get to a point in her life. She was alone, and she was lonely, but that was also part of who she was.
Unfavorable Points: There really isn't honestly anything I would change about this book.
Final Notes: I felt connected to a number of the characters, and appreciated the way all of the characters had their story resolved in some way. I knew nothing about the marsh lands of North Carolina before starting this book but I felt I truly could see them and was able to get a glimpse into life in the marshes through the wonderful writing of this book.
---
An Unwanted Guest by Shari Lapena
Summary: A remote lodge in upstate New York is the perfect getaway. . . until the bodies start piling up.It's winter in the Catskills and the weather outside is frightful. But Mitchell's Inn is so delightful! The cozy lodge nestled deep in the woods is perfect for a relaxing–maybe even romantic–weekend away. The Inn boasts spacious old rooms with huge wood-burning fireplaces, a well-stocked wine cellar, and opportunities for cross-country skiing, snowshoeing, or just curling up with a book and someone you love. So when the weather takes a turn for the worse, and a blizzard cuts off the electricity–and all contact with the outside world–the guests settle in for the long haul. The power's down but they've got candles, blankets, and wood–a genuine rustic experience! Soon, though, a body turns up–surely an accident. When a second body appears, they start to panic. Then they find a third body. Within the snowed-in paradise, something–or someone–is picking off the guests one by one. They can't leave, and with no cell service, there's no prospect of getting the police in until the weather loosens its icy grip. The weekend getaway has turned deadly. For some couples, it's their first time away. For others, it will be their last. And there's nothing they can do about it but huddle down and hope they can survive the storm.
Favorable Points: I really enjoyed the fast pace, several of the characters, and the setting itself. I read this in less than 24 hours and it was the second book that I really enjoyed by Lapena.
Unfavorable Points: Only thing was that it ended! I never once felt uninterested in the story.
Final Notes: Lots of suspense, characters taking sides against each other and a killer who I didn't see coming!
---
Station Eleven by Emily St. John Mandel
Summary: An audacious, darkly glittering novel set in the eerie days of civilization's collapse, Station Eleven tells the spellbinding story of a Hollywood star, his would-be savior, and a nomadic group of actors roaming the scattered outposts of the Great Lakes region, risking everything for art and humanity.
One snowy night a famous Hollywood actor slumps over and dies onstage during a production of King Lear. Hours later, the world as we know it begins to dissolve. Moving back and forth in time—from the actor's early days as a film star to fifteen years in the future, when a theater troupe known as the Traveling Symphony roams the wasteland of what remains—this suspenseful, elegiac, spellbinding novel charts the strange twists of fate that connect five people: the actor, the man who tried to save him, the actor's first wife, his oldest friend, and a young actress with the Traveling Symphony, caught in the crosshairs of a dangerous self-proclaimed prophet.
Sometimes terrifying, sometimes tender, Station Eleven tells a story about the relationships that sustain us, the ephemeral nature of fame, and the beauty of the world as we know it.
Favorable Points: I really enjoyed the reflective aspect that a lot of the characters had in this novel. The addition of the theater and music aspects to this story really added a lot to it. It showed that despite civilization basically crumbling and the survivors having to learn how to live again there is still beauty that remains.
Unfavorable Points: I really don't have anything unfavorable to say about this one!
Final Notes: An intriguing story line, interesting characters and a glimpse into what could happen to civilization.
---
Vox by Christina Dalcher
Summary: Set in an America where half the population has been silenced, VOX is the harrowing, unforgettable story of what one woman will do to protect herself and her daughter. On the day the government decrees that women are no longer allowed more than 100 words daily, Dr. Jean McClellan is in denial—this can't happen here. Not in America. Not to her.

This is just the beginning.

Soon women can no longer hold jobs. Girls are no longer taught to read or write. Females no longer have a voice. Before, the average person spoke sixteen thousand words a day, but now women only have one hundred to make themselves heard.

But this is not the end.

For herself, her daughter, and every woman silenced, Jean will reclaim her voice.
Favorable Points: It was a lot of things for me. It was a little unnerving, a little exciting, a little dark, a little unrealistic and I'm sure more. It is a futuristic (though I wouldn't really call it dystopian?) story of a time when females older than 6 months must wear counters on their wrists and are only allowed to speak 100 words a day.
Unfavorable Points: My only true unfavorable thoughts were that the ending felt rushed and a little too neat in the way it wrapped up.

Final Notes: Overall a quick and interesting read that really made me think about standing up and acting on your beliefs instead of always expecting someone else to be the one to do it.
---
The Woman in Cabin 10 by Ruth Ware
Summary: Lo Blacklock, a journalist who writes for a travel magazine, has just been given the assignment of a lifetime: a week on a luxury cruise with only a handful of cabins. The sky is clear, the waters calm, and the veneered, select guests jovial as the exclusive cruise ship, the Aurora, begins her voyage in the picturesque North Sea. At first, Lo's stay is nothing but pleasant: the cabins are plush, the dinner parties are sparkling, and the guests are elegant. But as the week wears on, frigid winds whip the deck, gray skies fall, and Lo witnesses what she can only describe as a dark and terrifying nightmare: a woman being thrown overboard. The problem? All passengers remain accounted for and so, the ship sails on as if nothing has happened, despite Lo's desperate attempts to convey that something (or someone) has gone terribly, terribly wrong.
First Sentence: In my dream, the girl was drifting, far, far below the crashing waves and the cries of the gulls in the cold, sunless depths of the North Sea.
Favorable Points: I started to wonder at one point just where the story was going, but I definitely didn't ever get bored or uninterested! I wanted Lo to get her answers and started to feel for her just a little, she seemed to have the worst luck! In the end I did not see twist coming and it was a pretty good one for me, but I never seem to see them coming.
Unfavorable Points: The main character, Lo, wasn't my favorite. I felt she played into the weak, whiny, drama filled narrator role a little too much. However, it wouldn't have been the same story without her being that way. Her behaviors and actions of course led to and/or caused some of the suspense.
Final Notes: This was a great, creepy novel full of suspense and anticipation.
---
Everything I Never Told You by Celeste Ng
Summary: Lydia is dead. But they don't know this yet.
So begins this exquisite novel about a Chinese American family living in 1970s small-town Ohio. Lydia is the favorite child of Marilyn and James Lee, and her parents are determined that she will fulfill the dreams they were unable to pursue. But when Lydia's body is found in the local lake, the delicate balancing act that has been keeping the Lee family together is destroyed, tumbling them into chaos.
A profoundly moving story of family, secrets, and longing, Everything I Never Told You is both a gripping page-turner and a sensitive family portrait, uncovering the ways in which mothers and daughters, fathers and sons, and husbands and wives struggle, all their lives, to understand one another.
First Sentence: Lydia is dead.
Favorable Points: A few of the characters I really felt for in this story. The youngest child of the Lee family, Hannah, just tugged at my heart. I felt the emotions of them and to me that helps to connect to the characters.
Unfavorable Points: It was hard to feel the emotions of some of the characters though, and how lonely and sad they were. I did not really enjoy how the family acted towards one of the children.
Final Notes: An interesting read about family, the true meaning of love, and being true to yourself and your goals or dreams in life.
---
One of Us Is Lying by Karen M. McManus
Summary: Pay close attention and you might solve this.
On Monday afternoon, five students at Bayview High walk into detention. Bronwyn, the brain, is Yale-bound and never breaks a rule. Addy, the beauty, is the picture-perfect homecoming princess. Nate, the criminal, is already on probation for dealing. Cooper, the athlete, is the all-star baseball pitcher. And Simon, the outcast, is the creator of Bayview High's notorious gossip app.
Only, Simon never makes it out of that classroom. Before the end of detention, Simon's dead. And according to investigators, his death wasn't an accident. On Monday, he died. But on Tuesday, he'd planned to post juicy reveals about all four of his high-profile classmates, which makes all four of them suspects in his murder. Or are they the perfect patsies for a killer who's still on the loose? Everyone has secrets, right? What really matters is how far you would go to protect them.
First Sentence: If all you knew of Bayview High was Simon Kelleher's gossip app, you'd wonder how anyone found time to go to class.
Favorable Points: I enjoyed the back and forth of trying to figure out all the clues, but there were a few times at the beginning I kept having to check the character names again. Who's who again?! There was not a single time where I had it figured out until the story started to fully point in the direction of the ending, this makes it a good story for me. I loose interest if I feel like I've figured it out.

Unfavorable Points: The only thing for me was having to keep track of the characters and who was dating whom, etc.
Final Notes: A fun Young Adult novel that adults can enjoy as well. Definitely one I would recommend if you like quick, easy reads. Had the suspense factor I like, but no creepy-ness at all. Add it to your October list for a fun, fall read!
---
Summary: Sixteen-year-old Starr Carter moves between two worlds: the poor neighborhood where she lives and the fancy suburban prep school she attends. The uneasy balance between these worlds is shattered when Starr witnesses the fatal shooting of her childhood best friend Khalil at the hands of a police officer. Khalil was unarmed.
Soon afterward, his death is a national headline. Some are calling him a thug, maybe even a drug dealer and a gangbanger. Protesters are taking to the streets in Khalil's name. Some cops and the local drug lord try to intimidate Starr and her family. What everyone wants to know is: what really went down that night? And the only person alive who can answer that is Starr.
But what Starr does—or does not—say could upend her community. It could also endanger her life.
First Sentence: I shouldn't have come to this party.
Favorable Points: The humorous internal dialogue of the main character/narrator is wonderful. The subject matter of such a book is quite valuable to our modern world.
Unfavorable Points: The pace of the story though did have moments of stagnation and some parts of the ending seemed abrupt. This did not deter from the story itself though.
Final Notes: If you want a book to help get you centered on the things that matter and why/how we can love and live life, this is a book for you.
Reviewed: 10/09/18
---
Summary: When Death has a story to tell, you listen.
It is 1939. Nazi Germany. The country is holding its breath. Death has never been busier, and will become busier still.
Liesel Meminger is a foster girl living outside of Munich, who scratches out a meager existence for herself by stealing when she encounters something she can't resist–books. With the help of her accordion-playing foster father, she learns to read and shares her stolen books with her neighbors during bombing raids as well as with the Jewish man hidden in her basement.
First Sentence(s): First the colors. Then the humans. That's usually how I see things.  Or at least, how I try.
Favorable Points: The character development was amazing, Liesel and Hans were my two favorite characters. I felt so strongly for them at multiple points during the story. The fact that this story was written from the aspect of the Germans was also interesting to me, so many stories about this time period are written from the Jewish perspective.
Unfavorable Points: The format of the book was the main reason I didn't love it from page one. It made it hard for me to connect with the characters initially since there were so many interruptions. Death as the narrator was interesting though also a little frustrating.
Final Notes: A wonderful story, great characters and lots of emotion. Definitely one that everyone should give a chance just because it was such a huge time in our history.
Date Reviewed: 09/28/18
---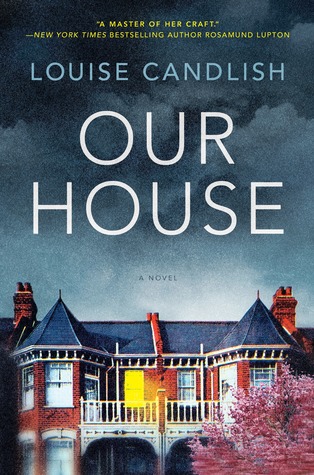 Summary:  On a bright January morning in the London suburbs, a family moves into the house they've just bought in Trinity Avenue. Nothing strange about that. Except it is your house. And you didn't sell it.

When Fiona Lawson comes home to find strangers moving into her house, she's sure there's been a mistake. She and her estranged husband, Bram, have a modern co-parenting arrangement: bird's nest custody, where each parent spends a few nights a week with their two sons at the prized family home to maintain stability for their children. But the system built to protect their family ends up putting them in terrible jeopardy. In a domino effect of crimes and misdemeanors, the nest comes tumbling down.

Now Bram has disappeared and so have Fiona's children. As events spiral well beyond her control, Fiona will discover just how many lies her husband was weaving and how little they truly knew each other. But Bram's not the only one with things to hide, and some secrets are best kept to oneself, safe as houses.
First Sentence:  She must be mistaken, but it looks exactly as if someone is moving into her house.
Favorable points: There were a few twists and surprises along the way that definitely held my interest and I really wanted to find out what happened! I could feel the desperation of Bram during a few scenes and it made me feel for him, even though if there were other traits about him that were very unpleasant. I started to want the plot to turn around from the way I could tell it was heading. Finally though, just when you think the story is over and everything has come to a resolution, you read the last paragraph and even the last sentence and realize that its all completely changed!!
Unfavorable points: I was expecting it to move at a much faster pace, so once I got a little ways into it I started to struggle with moving forward. When I'm in a book that I'm loving I don't even realize I'm turning the pages and this one wasn't quite like that for me. The format may have led to that as it jumped back and forth between the view of Fi and her husband Abraham (Bram). Fi's story was in the format of her telling it to a producer for a podcast episode. Bram's side was told from reading a Word Document that he wrote.
Final notes:  Great novel as a domestic suspense, though not quite a thriller level.  Lots of drama, and feelings.  Perfect if you're not looking for a fast paced novel.
Date reviewed: 09/19/18
---
Sworn to Silence by Linda Castillo
Summary: When a serial killer strikes bucolic Painters Mill, Ohio, the killer's signature -—Roman numerals ritualistically carved into each victim's abdomen- —matches the MO of four unsolved murders from 16 years earlier. Police chief Kate Burkholder, who's reluctant to dredge up the past, must keep secret that she knows why the old murders stopped. Not satisfied with the case's progress, local politicos set up a multi-jurisdictional task force to assist, including a law-enforcement agent battling his own demons. The added scrutiny and the rising body count threaten to push the chief over the edge. Adept at creating characters with depth and nuance, Castillo smoothly integrates their backstories into a well-paced plot that illuminates the divide between the Amish and English worlds.
First Sentence:  She hadn't believed in monsters since she was six years old, back when her mom would check the closet and look beneath her bed at night.
Favorable points: This was my first Linda Castillo book and I enjoyed it! I love psychological thrillers and this one sounded pretty similar, plus I've always been interested in books about the Amish and their way of life. The way the author gave away clues to the serial killer and then the two (!) twists near the end really kept me on the edge of my seat.  Learning some of the ways of the Amish through the story line was really well done in my opinion, of course I have no true knowledge of Amish life though an am not an expert on it.
Unfavorable points: The story ended up being more of a crime novel (including blood, violence, etc) than I was expecting, but it was necessary to the story for the most part. That was the only negative of the book for me. Hearing some of the violent, gory details of murders isn't always my thing.
Final notes:  This is a great read for fans of crime novels and murder mysteries! There is also at least 2 others written about Chief Kate Burkholder.
Date reviewed: 09/08/18
---
The Perfect Mother by Aimee Molloy
Summary: They call themselves the May Mothers—a collection of new moms who gave birth in the same month. Twice a week, with strollers in tow, they get together in Prospect Park, seeking refuge from the isolation of new motherhood; sharing the fears, joys, and anxieties of their new child-centered lives.

When the group's members agree to meet for drinks at a hip local bar, they have in mind a casual evening of fun, a brief break from their daily routine. But on this sultry Fourth of July night during the hottest summer in Brooklyn's history, something goes terrifyingly wrong: one of the babies is abducted from his crib. Winnie, a single mom, was reluctant to leave six-week-old Midas with a babysitter, but the May Mothers insisted that everything would be fine. Now Midas is missing, the police are asking disturbing questions, and Winnie's very private life has become fodder for a ravenous media.

Though none of the other members in the group are close to the reserved Winnie, three of them will go to increasingly risky lengths to help her find her son. And as the police bungle the investigation and the media begin to scrutinize the mothers in the days that follow, damaging secrets are exposed, marriages are tested, and friendships are formed and fractured.
First Sentence:  How fast the time goes.
Favorable points: This was a slower style  of writing, but I still rate it as a good psychological thriller. The first half was a lot of character information and hints into the past, the second half was much more fast paced and intriguing. Lots of "who done it" talk and amateur investigating between a few of the mothers.  The final scene of the book when everything is finally revealed was a good one, that I didn't see coming!

Unfavorable points: Even though the ending was good, I felt it was a little overwhelming and thrown together.  It almost seemed as if the author was just ready for it to be over and decided to give it all away at once.  I had to actually go back and reread a few lines to make sure I didn't miss something.
Final notes:  This is a great read for fans of thrillers without any of the horror style blood and gore. Enough twists and details to keep you interested without becoming creepy!
Date reviewed: 08/15/18
---
Summary: When Sarah meets Eddie, they connect instantly and fall deeply in love.  To Sarah, it seems as though her life has finally begun, and it's mutual: its as though Eddie has been waiting forever for her, too.  Sarah is certain she and Eddie know everything about each other. So when he leaves for a long-booked vacation and promises to call from the airport, she has no cause to doubt him.
But he doesn't call.
Sarah's friends tell her to forget about him, but she can't. She knows something's happened–there must be an explanation.  Minutes, days, weeks go by as Sarah becomes increasingly worried. But then she discovers she's right. There is a reason for Eddie's disappearance, and it's the one thing they didn't share with each other: the truth.
First Sentence: Dear you,
It's exactly nineteen years since that luminous morning.
Favorable points: I loved this story for the suspense aspect and how the way I thought something was explained was actually completely different. The plot twist really surprised me! I couldn't read the last part of the book fast enough. I felt the characters were likeable and relatable, though a tiny bit unreasonable at times. 
Unfavorable points: There really wasn't anything in this book that I didn't like, other than a few actions of the main character. The book would not have ended the same way without these actions though. Can't say any more or it might give some of it away!
Final notes: Ghosted is a great novel for readers that are fans of a good mystery or suspense story, without any of the crime or creepy-ness of a thriller. Plus, the love story was a nice addition!
Date reviewed:  08/11/18
---
You Were Made for This by Michelle Sacks
Summary:  Doting wife, devoted husband, cherished child. Merry, Sam, and Conor are the perfect family in the perfect place. Merry adores the domestic life: baking, gardening, caring for her infant son. Sam, formerly an academic, is pursuing a new career as a filmmaker. Sometimes they can hardly believe how lucky they are. What perfect new lives they've built.

When Merry's childhood friend Frank visits their Swedish paradise, she immediately becomes part of the family. She bonds with Conor.  And with Sam. She befriends the neighbors, and even finds herself embracing the domesticity she's always seemed to scorn.

All their lives, Frank and Merry have been more like sisters than best friends. And that's why Frank soon sees the things others might miss. Treacherous things, which are almost impossible to believe when looking at this perfect family. But Frank, of all people, knows that the truth is rarely what you want the world to see.
First Sentence: If you saw us you'd probably hate us. 
Favorable points: The voicing and writing style of this book is one of the things that I loved about it. It is written from the point of view of the three main characters: Merry, Sam and Frank. As we learn more about the characters and the roles they play, you begin to realize things may not be as they seem. I thought I had the plot and characters figured out multiple times during the book when I actually had not, which really kept me guessing and reading more!

Unfavorable points: I certainly was not expecting the outcome of this story, and after thinking it over for a few days I'm still kind of wishing it had ended differently. It ends in a somewhat vague way and I prefer a clear ending to a story. 
Final notes: Overall I really enjoyed this book and would recommend it for anyone interested in a good psychological thriller! It's definitely different than others I have read.
Date reviewed: 08/09/18